Il Sorcerer magicka è una delle classi più versatili del gioco sia per i danni che può fare sia per la semplicità di utilizzo e cosa molto importante, grazie alla rotation con gli Heavy Attack, riesce ad avere un mantenimento eccezionale delle risorse rendendolo perfetto soprattutto per i player che hanno appena iniziato ad inoltrarsi nel lato "End Game" e competitivo del gioco.
INFORMAZIONI DI BASE
Razza: High Elf (raccomandata), Dark Elf, Breton
Mundus: The Apprentice (in trial), The Lover (in solo/dungeon)
Cibo: Solitude Salmon-Millet Sauce (Max Health+Max Magicka)
Pozioni: Essence of Spell power (Cornflower, Lady's Smock, Water Hyacinth).
Vampirismo: consigliato
SKILL SETUP: Doppio Pet
SKILL SETUP: Mono Pet
SKILL SETUP: Maelstrom/Dungeon
EQUIPAGGIAMENTO
Come ottenere il gear
Necropotence: Rivenspire. [World Boss: Centrale, pantaloni] [Public Dungeons Boss: guanti] [Delve Boss: Cintura, stivali]
Moondancer: Maw of Lorkhaj
Infallible Aether: Aetherian Archive, Hel Ra Citadel, Sanctum Ophidia
Maw of the Infernal: Elmo: Banished Cells II. Spalle: Undaunted Chest di Maj al-Ragath
Julianos: Craftabile
Torug: Craftabile
Willpower: Guild stores, Imperial City Vaults
Maelstrom Staff: Veteran Maelstrom Arena
Champion Points
The Warrior

The Mage

The Thief

The Lord
37 Bastion
The Ritual
75 Thaumaturge
The Tower
51 Warlord30 Bashing Focus
The Lady
49 Hardy49 Elemental Defender20 Thick Skinned
The Apprentice
61 Elfborn38 Spell Erosion56 Elemental Expert
The Lover
49 Arcanist49 Tenacity
The Steed
48 Ironclad27 Spell Shield
The Atronach
—
The Lover
51 Tumbling
Rotation
Summon Volatile Familiar > Elemental Rage > Daedric Prey > Weapon Swap
Light Attack > Liquid Lightning > Light Attack > Blockade of storm  > Light attack > Scalding rune > Weapon Swap
Heavy Attack > Summon Volatile Familiar > Heavy attack > Daedric Prey > Weapon Swap
– Repeat
NOTE:
Utilizzare la pozione dello spell power ad inizio rotation e ogniqualvolta sia tornata carica, tranne se si sta facendo un Heavy Attack poichè l'utilizzo della pozione interromperà l'attacco.
Qualora si usi Mage's Wrath, sotto il 20% lo si usa in combinazione con un light attack al posto degli Heavy Attack, quando si ha il mana.
DPS Parse & Video
DPS: 41k in self buff con 2 pet (The Apprentice)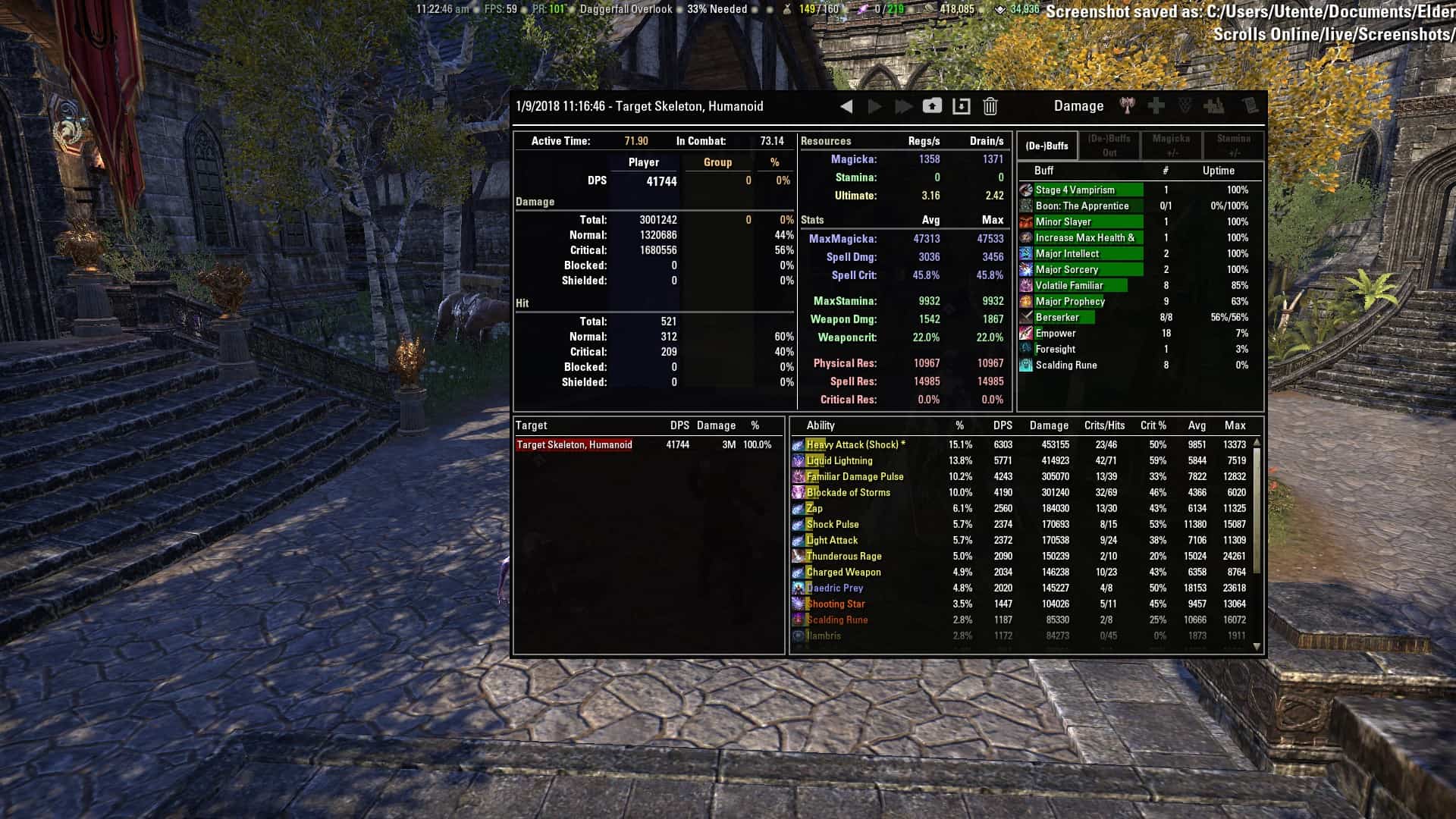 DPS: 41k con 1 pet e finisher. (The Apprentice)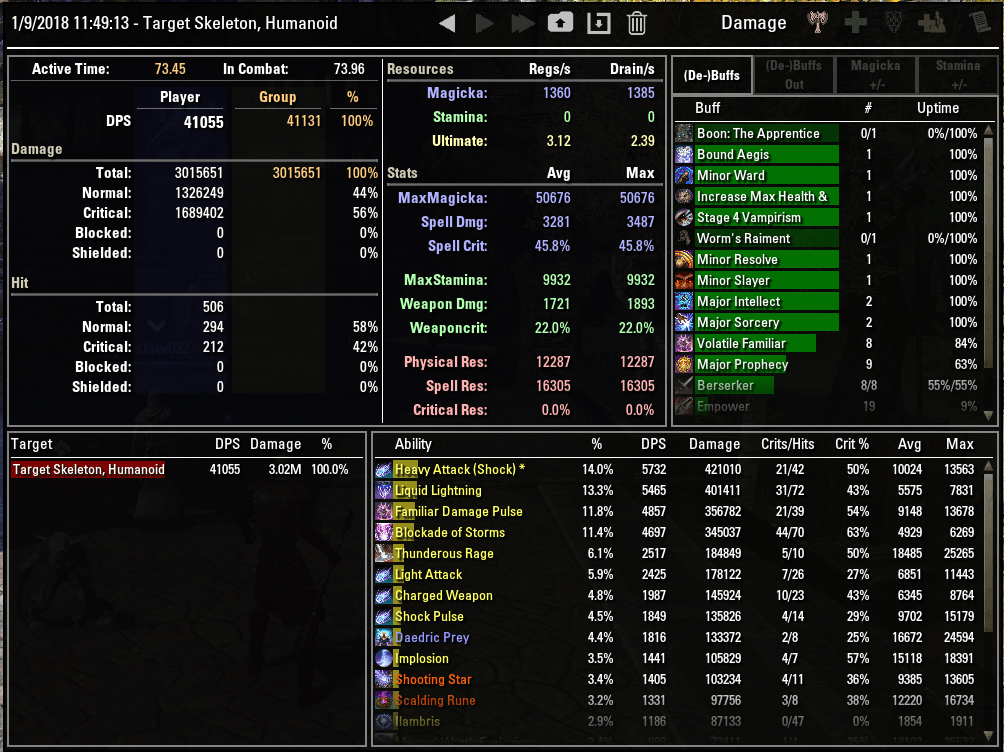 DPS: 41k con 1 pet. (The Apprentice)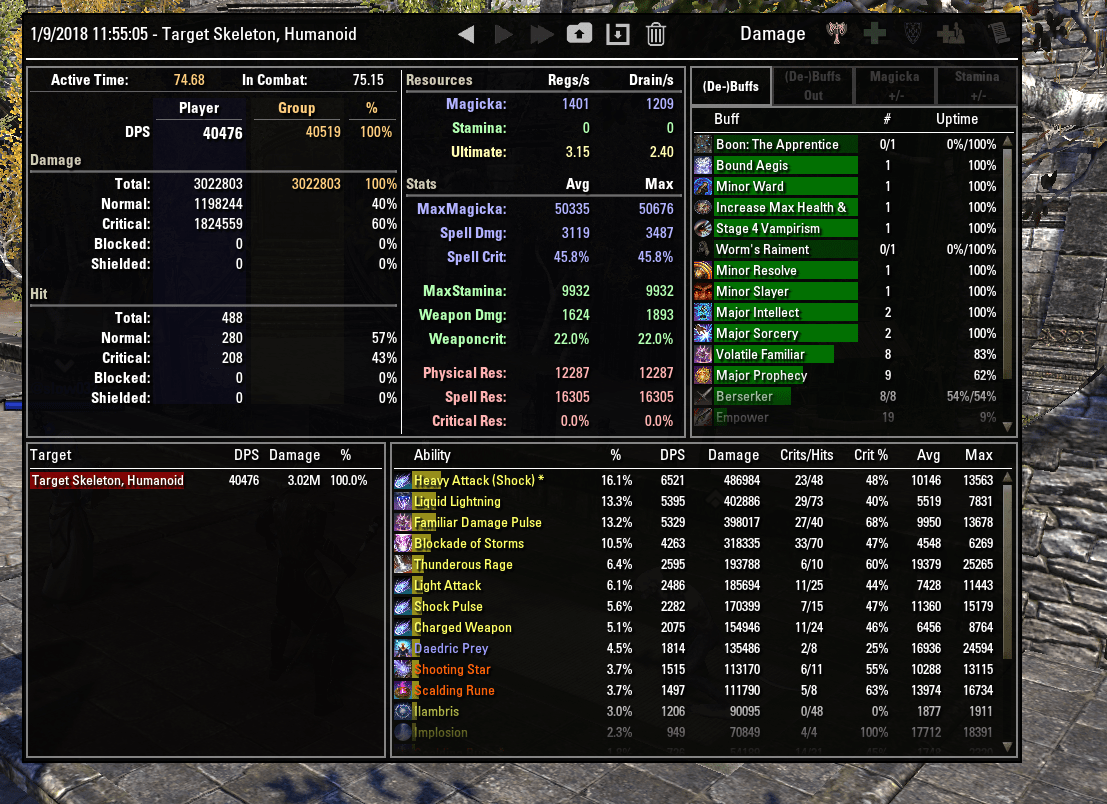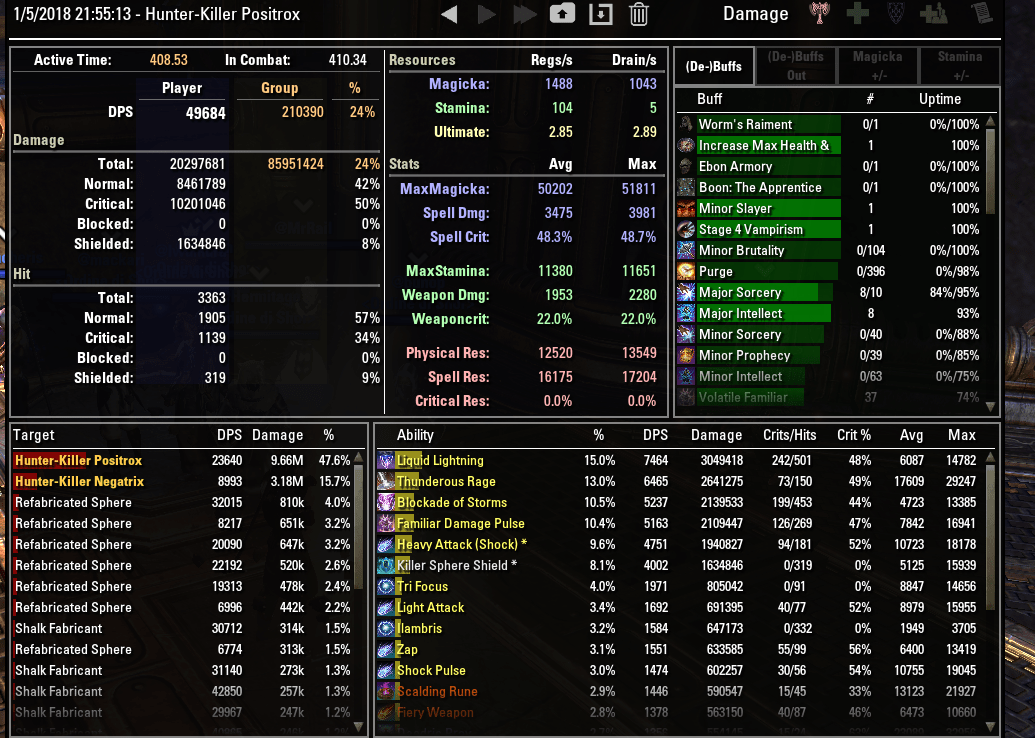 Screen Parse 1 boss vHoF 49k
---
Volevo concludere questa guida dicendovi che il Sorcerer Magicka è stata la classe con cui ho iniziato a giocare e tra alti e bassi, grazie soprattutto al supporto e all'aiuto di @mrxanathos e di @iwamura, sono riuscito a raggiungere risultati che non credevo minimamente di poter solo sfiorare. Quindi un grazie speciale va alla mia gilda che ha reso possibile tutti i risultati che avete visto in questa guida.
@Rictal