Salve a tutti! Oggi vi presento la guida al magicka sorcerer aggiornata alla patch di Dragonhold. Come tutti i magicka, anche il Magsorc torna ad una classica rotation con una skill spammabile dati i recenti nerf ai dot. Risulta comunque un buon DD, facile da usare e abbastanza efficace in ogni contesto (solo/trial).
In questa guida vi propongo la build con due pet, poiché resta quella col danno maggiore.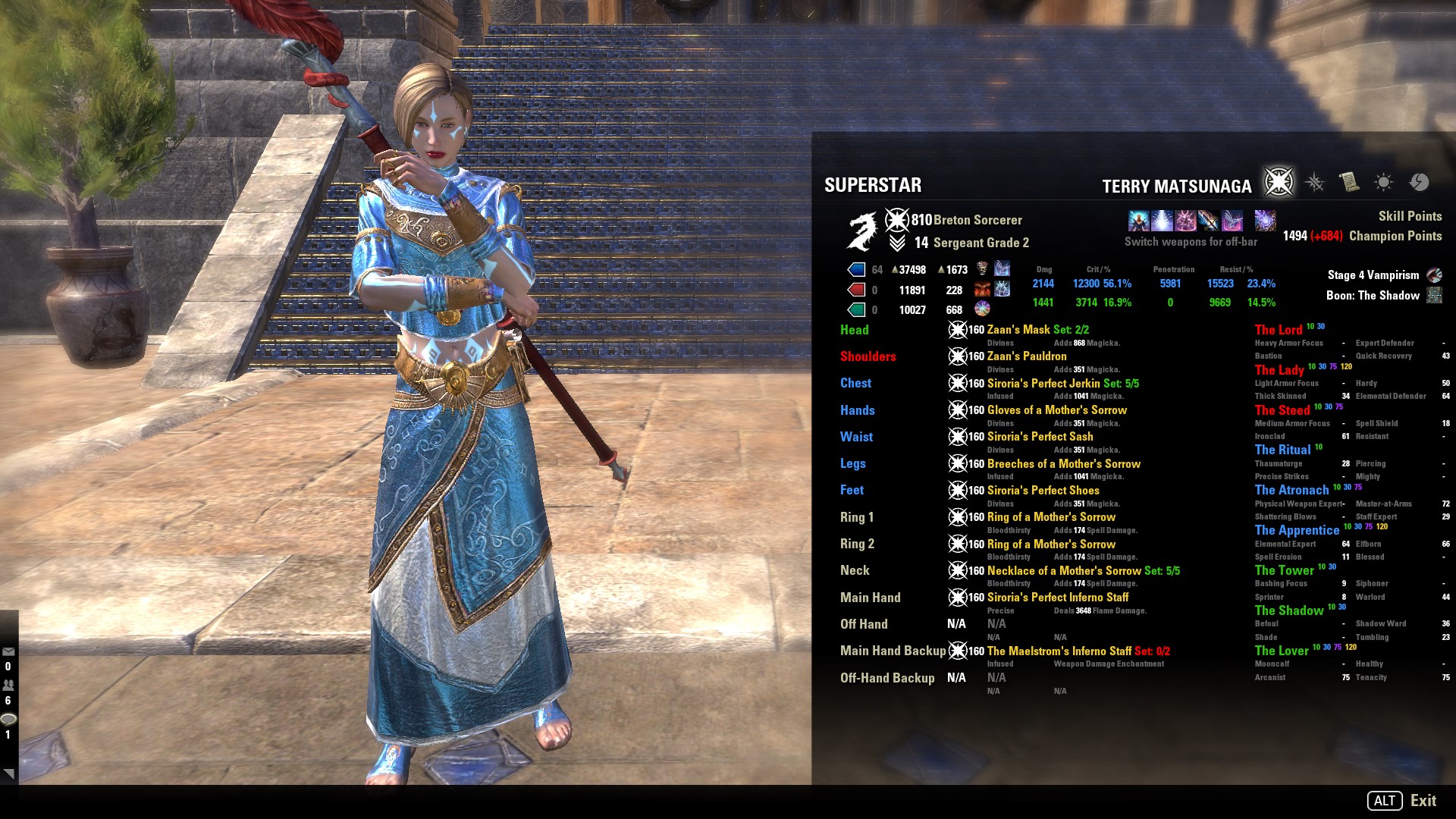 INFORMAZIONI DI BASE
Razza: Breton (Consigliata), High Elf (consigliata), Dark Elf
Mundus: The Shadow (Trials), The Lover (Dungeon & Maelstrom)
Cibo:  Clockwork Citrus Filet / Witchmother's Potent Brew (Max Health/Max Magicka + Magicka Recovery)
Pozioni: Essence of Spell Power (Corn Flower, Lady's Smock, Water Hyachint)
Vampirismo: Consigliato
SKILL SETUP
https://www.elderscrollsbote.de/planer/#1-2c5116400000:188:12:111:19:172:11:232:21:31:21:21:26:23:31:211:21:21:21:21:26:21:21:21:21:21:21:21:21:21:21:21:151:21:21:334:319:31:197:170:24:21:21:12:15:13:15:27:311:12:14:251:21:337:176:21:21:21:11:12:15-101:576:88:756:110:551:465:751:543:88:110:90
Ovviamente dovrete sbloccare tutte le passive di razza, di classe, del vampirismo, della Mages Guild, degli Undaunted e Medicinal Use (dalla professione Alchemy).
Fra le skill consigliate (che sostituiremo allo Spell Simmetry in back bar) avremo:
EQUIPAGGIAMENTO
Questo è il setup migliore in termini di danno. Bisogna tenere presente, però, che il Siroria è un set abbastanza complesso da usare: sarà necessario rimanere entro il cerchio della skill per usufruire del buff allo Spell Damage almeno per 10 secondi, trascorsi i quali potrete spostare il cerchio in un'altra posizione semplicemente con un Light Attack. Per agevolarvi potete utilizzare l'omonimo addon, che vi segnalerà a quanti stack del set siete arrivati (Max 20) e quando potrete spostarvi.
Per quanto riguarda il monster set, invece, lo Zaan è perfetto nel casi in cui potete stare melee, ad eccezione di Sunspire (che a causa di un bug alla hitbox del boss non permette al set di proccare). In alternativa vi consiglio lo Slimecraw per le situazioni in cui l'healer non può fornirvi il Combat Prayer (es: Veteran Asylum Sanctorium) o il Maw of Infernal, nei casi in cui dobbiate rimanere ranged (verrà anche buffato dalla Daedric Prey). Un altro monster set ottimo per i trash pull e per i fight in cui servono molti danni ad area è il Grothdarr.
Per tutte quelle situazioni in cui il Siroria risulterà troppo difficile da utilizzare, questo setup rappresenta un'ottima alternativa: perderete un po' di danno ma avrete in cambio tantissimo sustain fornito dal set False God (e magari potrete pure optare per il cibo Max Health/Max Magicka senza troppi problemi).
Per iniziare, invece, potrete utilizzare dei set craftabili. Vi consiglio il Julianos e l'Ancient Dragonguard, anche al cp150 e con i tratti traning (in modo tale da non utilizzare troppi materiali/soldi e così da poterlo sfruttare anche in futuro per farmare Champion Points).
L'Ancient Dragonguard potrebbe anche tornarvi utile in Maelstrom (prima di farmare il False God, che sicuramente rende meglio), visto il buff alle resistenze che avrete ogni volta che la vita scenderà sotto il 50%.
Come ottenere il gear
Zaan: Elmo in Scalecaller Peak (Veteran mode), Spalla nella Undaunted Chest di Urgarlag Chief-Bane
Perfect Mantle of Siroria: Cloudrest (Veteran mode), Non-Perfected in Normal Mode
The Maelstrom's Inferno staff: Maelstrom Arena (Veteran Mode)
Willpower: Crates di Imperial City (Memorial District), acquistabile dai Guild Store
Mother's Sorrow: Deshaan, acquistabile dai Guild Store
Perfected False God's Devotion: Veteran Sunspire trial, Non-Perfected in Normal Mode
Maw of the Infernal: Elmo in Banished Cells II (Veteran Mode), Spalla nella Undaunted Chest di Maj al-Ragath
Slimecraw: Elmo in Wayrest Sewers I (Veteran Mode), Spalla nella Undaunted Chest di Maj al-Ragath
Grothdarr: Elmo in City of Ash I (Veteran Mode), Spalla nella Undaunted Chest di Glirion the Redbeard
Ancient Dragonguard: Craftabile
Julianos: Craftabile
Champion Points
The Warrior
The Mage
The Thief
The Lord
7 Quick Recovery
The Ritual
28 Thaumaturge
The Tower
51 Warlord
The Lady
49 Hardy
51 Thick Skinned
49 Elemental Defender
The Apprentice
64 Elemental Expert
66 Elfborn
11 Spell Erosion
The Shadow
23 Shadow Ward
28 Tumbling
The Steed
66 Ironclad
48 Spell Shield
The Atronach
72 Master-at-Arms
29 Staff Expert
The Lover
100 Arcanist
68 Tenacity
Rotation
La rotation del Magicka Sorcerer è molto semplice, sebbene non sia lineare.
Inizieremo attivando entrambi i pet e l'ulti (l'atronach), il channeled acceleration, per poi continuare con:
Daedric prey – SWAP –  Light Attack – Unstable wall – SWAP – (LA – Elemental weapon/Crystal fragment) x N
Lo scopo della rotation sarà tenere sempre up i dot (Deadric Prey, Unstable wall e pet) lanciando SEMPRE il Crystal Fragment quando procca. Se il Fragment procca nell'esatto momento in cui dovete rinnovare un dot in main bar, date sempre la precedenza al Fragment. Se invece procca quando dovete rinnovare il blockade, prima rinnovate quest'ultimo e poi lanciate il Fragment.
DPS PARSE & VIDEO