Ciao a tutti ragazzi. In questa video guida analizzeremo il magicka Warden dopo l'uscita del nuovo DLC Dragonhold, il quale ha previsto un pesantissimo Nerf per tutte le classi DPS. Devo dire che sono rimasto piacevolmente sorpreso da questa classe, in quanto il magicka Warden riesce ad offrire al gruppo un'utilità fin ora mai pervenuta (se non ci sono altri warden in gruppo).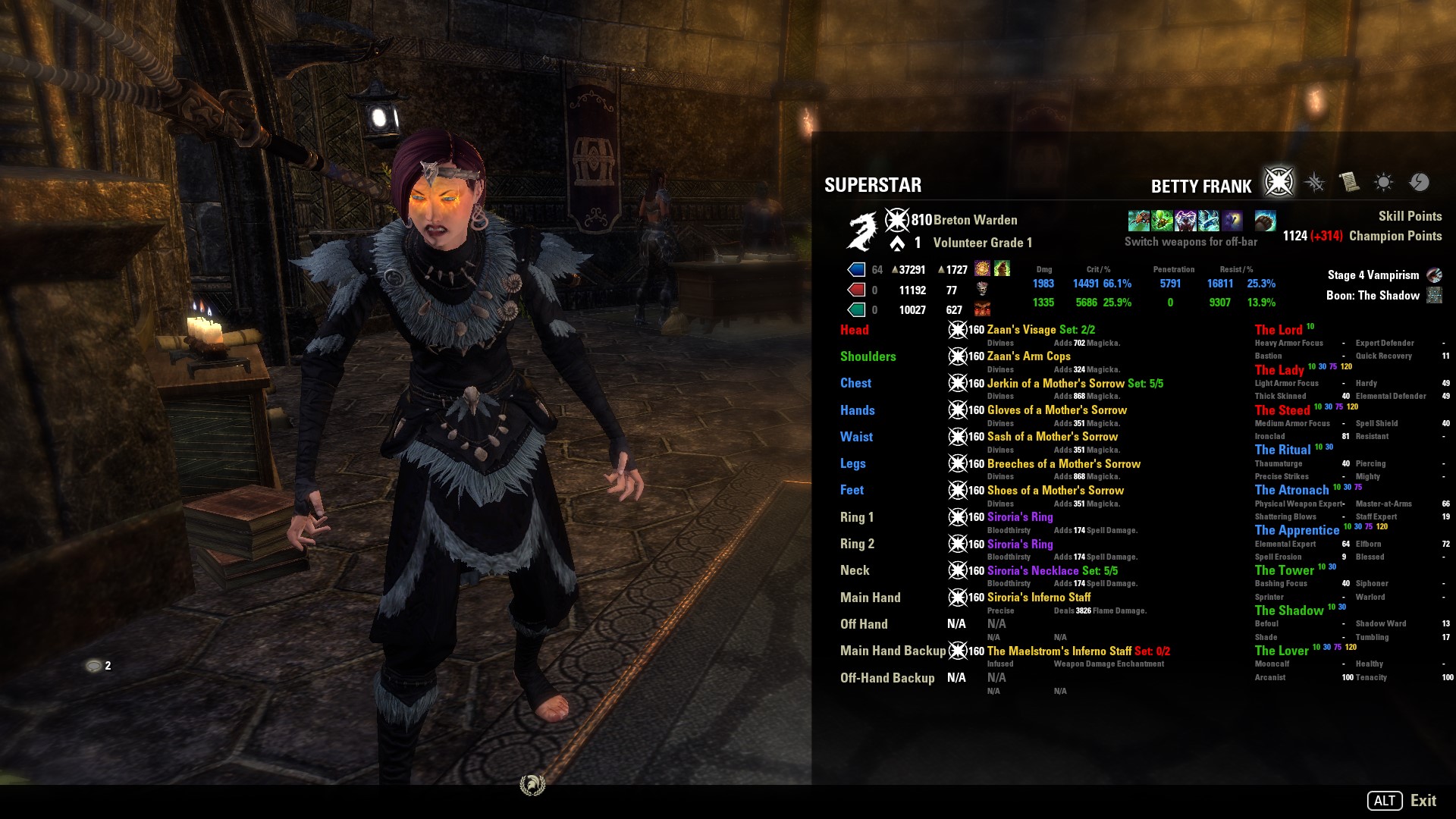 INFORMAZIONI DI BASE
Razza: Bretone, High Elf
Mundus: The Shadow
Cibo: Witchmother potent brew (Recovery), Solitude Salmon soup (Bi-Stat)
Pozioni: Essence of Spell Power
Vampirismo: raccomandato
SKILL SETUP 
Altre skill che consiglio di sbloccare sono:
Channeled acceleration: Usabile al posto della trap li dove non possiamo star melee.
Mystic Orb: La morph da dps della classica orb dell'healer, garantisce sustain al gruppo li dove non è presente l'healer, oltre che far danno
Harness Magicka: Lo scudo della light armor, utilizzabile nel flex spot della back bar al posto dell'inner light
EQUIPAGGIAMENTO
Altri set validi in questa patch sono anche:
Spell Strategist
Necropotence
Valkin Skoria
Slimercraw
Per chi invece ha appena finito di livellare il pg, questo è il setup che consiglio per cominciare a farmare tutto quello che successivamente servirà per l'end game:
Come ottenere il gear
Zaan: Elmo in Scalecaller Peak (Veteran mode), Spalla nella Undaunted Chest di Urgarlag Chief-Bane
Perfect Mantle of Siroria: Cloudrest (Veteran mode), Non-Perfected in Normal Mode
The Maelstrom's Inferno staff: Maelstrom Arena (Veteran Mode)
Willpower: Crates di Imperial City (Memorial District), acquistabile dai Guild Store
Mother's Sorrow: Deshaan, acquistabile dai Guild Stores
Perfected False God's Devotion: Veteran Sunspire trial, Non-Perfected in Normal Mode
Julianos: Craftabile
Slimecraw: Elmo in Wayrest Sewers I (Veteran Mode), Spalla nella Undaunted Chest di Maj al-Ragath
Spell Strategist: Rewards of the Worthy, Guild Stores
Necropotence: Rivenspire, Guild Stores
Valkyn Skoria: Elmo in City of Ash II (Veteran Mode), Spalla nella Undaunted Chest di Glirion the Redbeard
Champion Points
The Warrior
The Mage
The Thief
The Lord
—
The Ritual
40 Thaumaturge
The Tower
51 Warlord
The Lady
49 Hardy
44 Thick Skinned
49 Elemental Expert
The Apprentice
64 Elemental Expert
72 Elfborn
9 Spell Erosion
The Shadow
23 Shadow Ward
28 Tumbling
The Steed
66 Ironclad
62 Spell Shield
The Atronach
66 Master-at-Arms19 Staff Expert
The Lover
100 Arcanist
68 Tenacity
Rotation
La rotation del warden è una rotation molto semplice, consisterà nel tenere up i nostri dot senza farli mai scadere e spammare il nostro uccellaccio o la nostra ultimate quando essa è disponibile. La rotation sarà del tipo:
Pre rotation:
–  Netch → trap → SWAP → DF → SWAP
Wall → Winter → SWAP
DF → Fetcher → degeneration → DF → Spam → Spam → DF and Restart
Riattiveremo la trappola e il netch alternandoli, iniziando riattivando per prima la trappola
Se al posto della trap usiamo il channeled acceleration, lo riattiveremo ogni 3 rotation
Leggenda:
DF = Deep Fissure
Spam = Cliff, Ulti
DPS Parse & Video