Con l'uscita di Murkmire, il Magicka Templar è diventata una delle classi più utili da avere in un gruppo organizzato, grazie alla sua varietà di skill e  setup che gli permettono di poter essere utilizzato sia come Dps ranged sia come Melee. La sua particolarità è la versatilità, che permette di poter giocare questa classe in qualsiasi tipo di contenuto(Trial o Dungeon).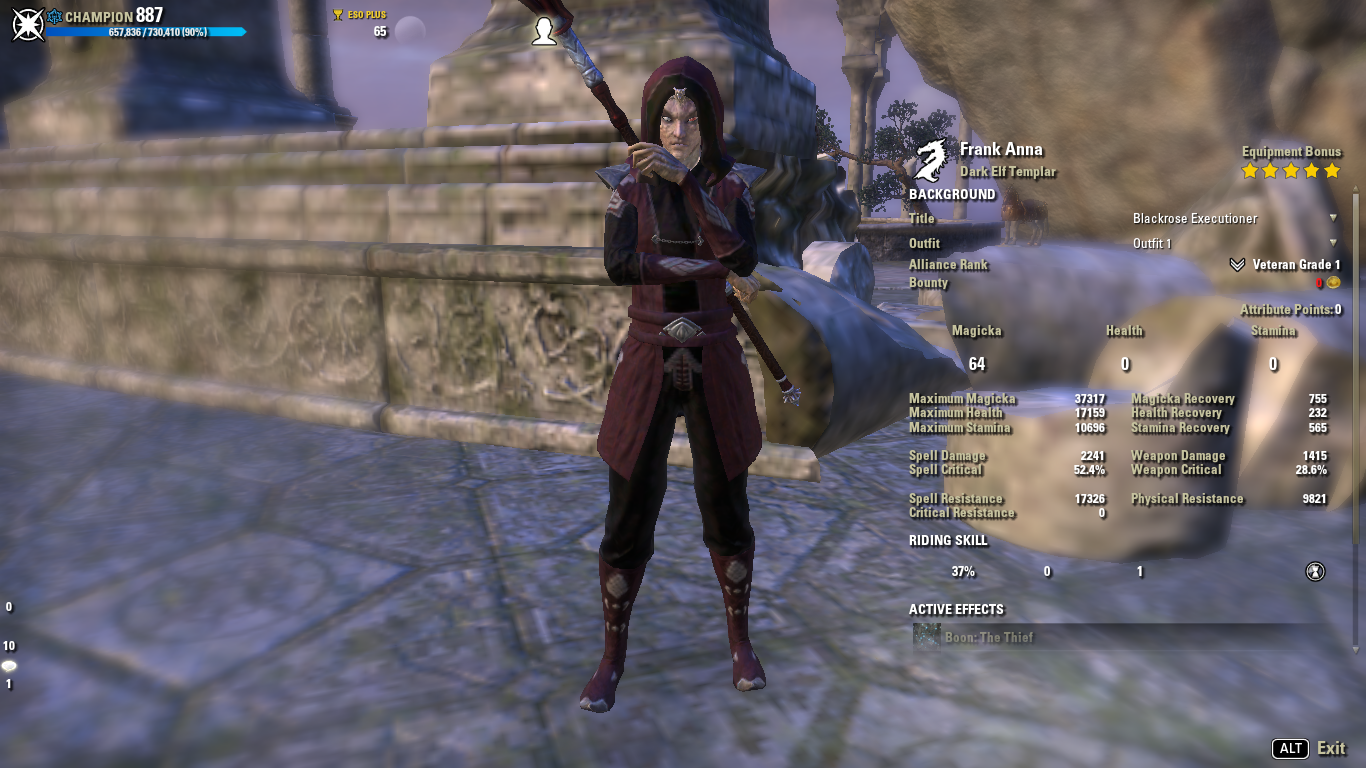 INFORMAZIONI DI BASE
Razza: Elfo Oscuro (consigliato), Elfo Alto
Mundus: The Thief, The Apprentice
Cibo: Solitude Salmon ( Bi-Stat) o Clockwork Citrus Filet,Witchmother Potent brew (Recovery)
Pozioni: Essence of Spell Power (Corn Flower, Lady's Smoch, Water Hyacint)
Vampirismo: raccomandato
SKILL SETUP
Ranged Setup

Melee Setup
Arena Setup
Questi sono i 3 set up di skill consigliati per poter affrontare qualsiasi contenuto, tuttavia si possono apportare ulteriori modifiche in base alle occasioni, quindi consiglio anche di sbloccare skill come:
EQUIPAGGIAMENTO
Come ottenere il gear
Mother Sorrow: Deshaan [World Boss: Chest, pantaloni] [Public Dungeons Boss: guanti] [Delve Boss: Cintura, stivali]
Burning Spellwave: City of Ash(I e II)
Siroria: Cloudrest (Trial dell'espansione: Summerset);
Zaan: Scalecaller Peak;
Valkin Skoria: City of ash 2 veteran
Master Architect: Hall of Fabbrication;
 Spell Strategist: Rewards of the worthy;
Moondancer: Maw of Lorkhaj;
Julianos: Craftabile.
Champion Points
The Warrior

The Mage

The Thief

The Lord
19 Quick Recovery
The Ritual
75 Thaumaturge
The Tower

23 Warlord
19 Sprinter

19 Bashing focus

The Lady
37 Hardy
56 Elemental Defender
37 Thick Skinned5 Light armor focus
The Apprentice

48 Elemental  Expert
48  Elfborn
24 Spell Erosion

The Lover
100 Arcanist
32 Tenacity
The Steed
73 Ironclad
43 Spell Shield
The Atronach
9 Staff Expert
66 Master-at-arm
The Shadow
37 Tumbling
40 Shadow Ward
Rotation
La rotation del magplar non è lineare poichè prevede molti cambi di barra per massimizzare il danno.
La rotation consigliata è la seguente:
Pre-rotation: Channeled Acceleration →Runa → inner light → SWAP
I° Step: Blazing spears → LA → ULTI destro → SWAP
II° Step: LA → El. Blockade → SWAP →LA → purifyng light → SWAP
III° Step: LA → Vampire's bane → SWAP
IV° Step: LA → El.Weapon (x4) → Step 1 and restart
In fase di finisher (sotto il 20%) si usa radiant oppression al posto della spammabile (Elemental Weapon).
DPS Parse & Video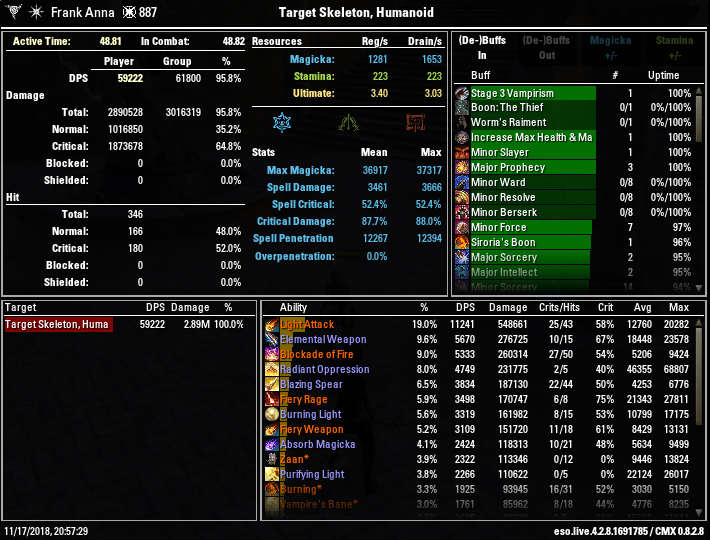 A seguire il video della rotation.