Con l'uscita di Murkmire il Warden Stamina è diventato una delle Top class Dps, grazie ad alcuni cambiamenti apportati ad abilità passive e skill attive. In un gruppo organizzato non ha nulla di meno da invidiare ad uno stamina Nightblade.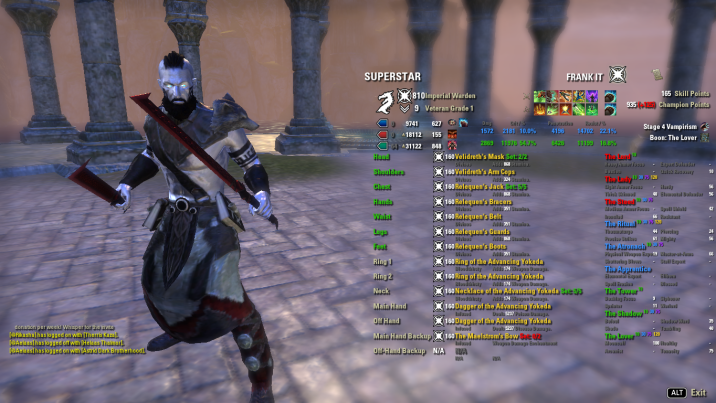 INFORMAZIONI DI BASE
Razza: Redguard (consigliato), Imperiale, Khajit
Mundus: The Lover
Cibo: Braised rabbit with spring vegetable (Bi-Stat), Dubious Camoran Throne (Recovery)
Pozioni: Essence of Weapon Power
Vampirismo: raccomandato
SKILL SETUP
Questo setup di skill ci permette di poter affrontare qualsiasi contenuto senza grandi difficoltà. Il bird Of Prey ci garantirà lo stesso bonus del Combat Prayer dell'healer come passiva; tuttavia, nei contesti in cui servono più cure, il Bird of Prey della back bar può essere sostituito da:
-Resolving vigor
-Green Lotus
-Soothing Spore
Considerate anche che con i bilanciamenti usciti con Murkmire, quando un Warden cura se stesso o un alleato, applicherà il Minor Toughness, incrementando la sua vita e quella dell'alleato (mica male!).
EQUIPAGGIAMENTO
Il Glifo Prismatic potrà essere messo sull'arco e vi servirà in alcune trial in cui i boss sono deadra o non morti (es: Rakkhat, Ra Kotu).
Visto anche il costo irrisorio della Ulti (75), Se il gruppo necessita di ulteriori buff si può utilizzare il War Machine. Come setup ideale da buffer consiglio questo:
Per chi invece ha appena finito il personaggio e sta cominciando ad entrare nell'ottica dell'end game pve,il set base con il quale iniziare a farmare tutto sarà il seguente:
Questo setup vi permetterà di iniziare dungeon e trial normal per farmare i set che vi serviranno per l'end game. E' composto da 2 set craftabili, quindi non dovreste avere problemi ad ottenerli, mentre la gioielleria è formata da 3 pezzi del set agility (facile da reperire e a basso costo).
Come ottenere il gear
Advancing Yokeda: Hel Ra Citadel;
Perfect Arms of Relequen: Cloudrest (Veteran+1,+2 o HM), Normal e Veteran +0 per la versione non perfected;
Velidreth: Cradle of shadow (Testa), Chest di Urgalarg (Spallina);
Hunding's Rage: Craftabile;
Night Mother's Gaze: Craftabile;
Agility:  Guild stores
Maelstrom Bow: Veteran Maelstrom Arena
Champion Points
The Warrior

The Mage

The Thief

The Lord

10 Quick recovery

The Apprentice

—

The Tower

9 Bashing focus
11 Sprinter

The Lady

56 Hardy
56 Elemental Defender
40 Thick Skinned

The Atronach
66 Master-At-Arms19 Physical Weapon Expert
The Lover

75 Tenacity
100 Mooncalf

The Steed

66 Ironclad
42 Spell Shield

The Ritual

56 Mighty
44 Thaumaturge
61 Precise Strikes
24 Piercing

The Shadow

40 Tumbling
35 Shadow Ward
Rotation
La rotation del Warden Stamina è davvero molto semplice. Il suo funzionamento si basa sul massimizzare il tempo attivo del Subterraneous Assault (Scarafaggi), che verranno riattivati mediamente ogni 2 skill eseguite.
La rotation sarà, quindi:
Pre-rotation:  Bull netch, Pozione,SA, Trap SWAP
Back Bar: EH → PJ → RC → Ulti orso Bar SWAP
Main Bar: SA → Trap → RS → SA → CD → CD → SA → SWAP and restart
Riattivate il bull netch in back bar solo quando sarà scaduto e prima di swappare (quindi dopo aver castato l'ulti) in modo da poterne cancellare facilmente l'animazione.
Se si utilizza il set-up da buffer(War Machine) è importante ricordare che l'ultimate dovrà essere castata in main bar;in questo caso sostituiremo un cutting dive con la ulti quando è disponibile.
LEGGENDA:
EH = Endless Hail
PJ = Poison Injection
RC = Razor caltrops
SA = Subterraneous Assault
RS = Rendering Slashes
CD = Cutting dive
DPS Parse & Video
Parse realizzato in solo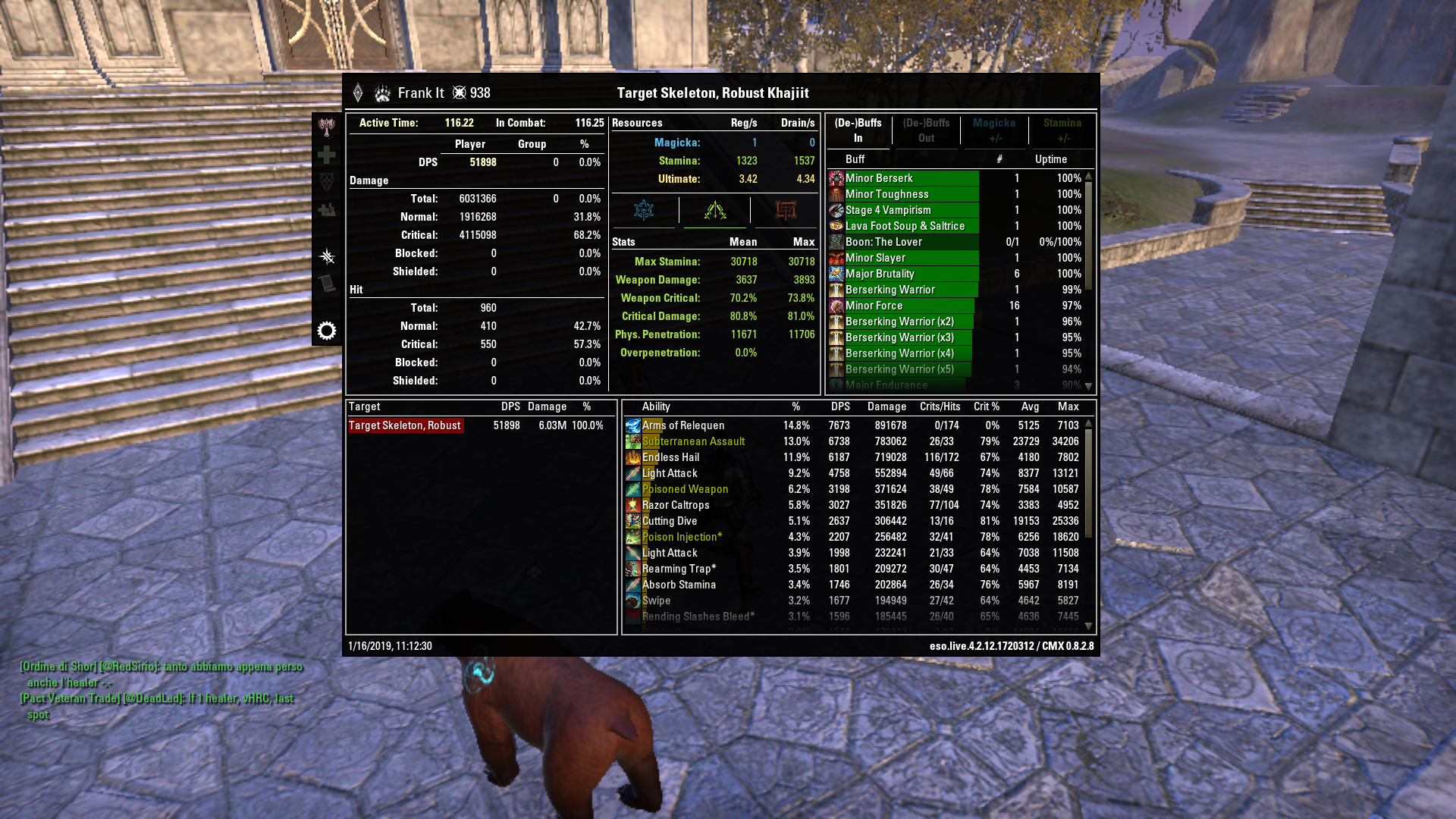 Parse sul Manichino di Gruppo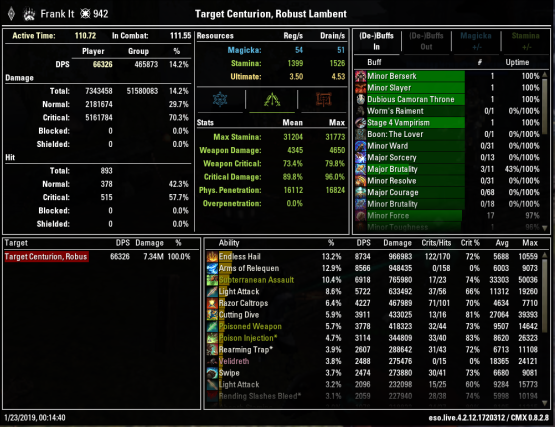 Per qualsiasi consiglio o dubbio non esitate a contattarmi in game. Alla prossima!