Il Warden stamina è da sempre stata una delle classi più sottovalutate del gioco. Dopo averlo provato con l'uscita di Summerset posso invece dire che la sua utilità in un gruppo ben organizzato è indispensabile, in quanto possiede svariate skill da utility in trial. Inoltre spicca nelle situazioni in cui si presentano molti mob(e quindi richiesto danno AoE),e possiede un ottimo damage single-target.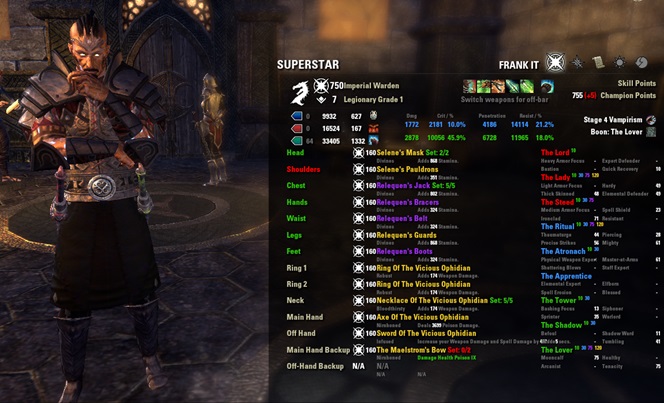 INFORMAZIONI DI BASE
Razza: Imperiale (consigliato), Redguard, Orco,  Khajiit
Mundus: The Lover (considerate le modifiche del Night Mother's gaze e del Sunderflame, questa mundus vi permetterà di sfruttare i cp in altri modi, senza usarne troppi in Piercing!)
Cibo: Dubious Camoran Throne (Max vita, Max Stamina, Stamina Recovery)
Pozioni: Essence of Weapon Power (Blessed Thirstle, Dragonthorne, Wormwood)
Vampirismo: raccomandato
SKILL SETUP
Il Wild guardian permette l'utilizzo del War Machine come set per buffare il gruppo,dando un buff del Major Slayer intorno al 40%. Considerate però che l'uso del pet in alcuni fight è sconsigliato (V boss vHoF). In questi casi si utilizzeranno come ultimate Flawless Dawnbreaker in Main-bar e Ballista in back-bar.
In back-bar il 4° e 5° slot sono occasionali,in modo tale da poter sempre scegliere cosa sia più utile utilizzare in base alla fight e in base al gruppo. Le alternative sono:
Bird of prey: Ha la stessa funzione del combact prayer che ci da l'healer
Resolving Vigor: Se serve avere una cura maggiore
Polar Wind: Cura di Gruppo
Ice Fortress: Per mitigare il danno
Permafrost: Per mitigare il danno
Shooting Spore: Se servono cure di gruppo (in assenza dell'healer)
EQUIPAGGIAMENTO
Questi 3 differenti setup vi permetteranno di affrontare qualsiasi situazione in qualsiasi contenuto.
Come ottenere il gear
Relequen: Cloudrest (Normal mode, Veteran mode per la versione Perfected)
Hunding's Rage: Craftabile
War Machine: Hall of Fabrication (Normal e Veteran Mode)
Vicious Ophidian: Trial di Clagorn
The Maelstrom Bow: Maelstrom Arena (Veteran Mode)
Automaton: Darkshade Caverns I e II
Selene: Selene's Web Vet (elmo) e nella chest Undaunted di Glirion The Readbear (spalline)
Velidreth: Elmo in Cradle of Shadows (Veteran mode),  Spalla nella Undaunted chest di Urgarlag Chief-Bane
Champion Points
The Warrior

The Mage

The Thief

The Lord

10 Quick recovery

The Apprentice

—

The Tower

35 Warlord
13 Bashing Focus

The Lady

49 Hardy
49 Elemental Defender
48 Thick Skinned

The Atronach
51 Master-At-Arms
The Lover

75 Tenacity
75 Mooncalf

The Steed

71 Ironclad

The Ritual

61 Mighty
44 Thaumaturge
56 Precise Strikes
28 Piercing

The Shadow

41 Tumbling
11 Shadow Ward
Rotation
Considerando l'importantissimo buff del danno dei Light Attack ho cercato di reimpostare la rotation in modo tale da creare anche un'ottima sinergia con il nuovo set, il relequen.
Un problema fondamentale del warden era la lunghezza delle animazioni;questo problema è stato ovviato dall'inserimento in rotation della nuova spammabile Crushing weapons,che non solo bufferà i nostri light attack,ma grazie all'altra passiva della skill line Psjsjic ogni 5 volte che la casteremo otterremo delle orbs che franno un danno aggiuntivo.
Cercate di mantenere sempre attivo il  buff del Green lotus e del Bull Netch,cancellando la loro animazione(troppo lunga) con lo swap della barra.
La rotation sarà, quindi:
Pre-Rotation: Bull Netch → SWAP → Green lotus → SWAP → Pozione → Beeltles → Trap&SWAP
Endless Hail → LA → Poison Inj → LA → Caltrops(-> Green lotus se serve) → SWAP
LA → Beetles → LA → Rendering Sashes(o ULTI se UP) → LA → Crushing W → LA → Crushing W → LA → Beetles → LA Crushing W → LA → Crushing W → LA → Trap(-> netch se serve) → SWAP […]
Subterranean Beetles è una skill che nei fight AoE aumenterà il danno in maniera esponenziale, considerando che ha un ampio raggio anche in single target sarà tra le skill dal dps più alto. Inoltre, ogni skill dell'animal companion in barra aumenterà il vostro weapon damage del 2%.
DPS Parse & Video
Parse realizzato con i set Relequem e Vicious Ophidian
Parse realizzato con Automaton e Vicious Ophidian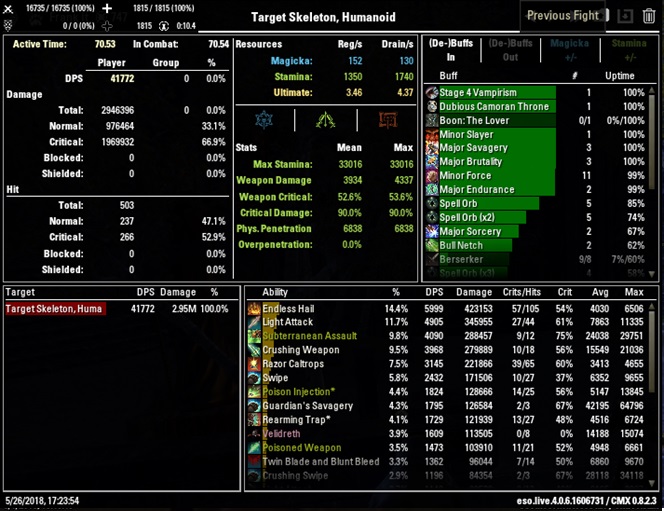 Per qualsiasi dubbio non esitate a contattarmi qui o in game.
Voglio Anche ringraziare @Iwamura che mi ha aiutato tantissimo per la realizzazione di questa build e @Infernus_PwN  e @Skyeson per tutte le prove al manichino e il tempo dedicatomi! Grazie !