INFORMAZIONI DI BASE
Razza: Elfo Oscuro (consigliato), Elfo Alto
Mundus: The Apprentice
Cibo: Clockwork Citrus Filet, Witchmother Potent brew
Pozioni: Essence of Spell Power (Corn Flower, Lady's Smoch, Water Hyacint)
Vampirismo: raccomandato
SKILL SETUP
Ranged Setup
Melee Setup
La skill line del Magplar rimane tuttavia una skill line molto varia, quindi in base al contenuto che andremo ad affrontare potremmo optare per diverse soluzioni. Altre skill che vi consiglio di sbloccare sono:
Repentance    → Il nostro modo di poter guadagnare vita "Aggratis"
Spell Simmetry  → Ottima skill per le fight che richiedono un consumo di magicka eccessivo
Channeled Focus  → Sempre se abbiamo problemi di sustain
Crushing shock  → Molto utile per interrompere a distanza (Fang lair ultimo boss, Maelstrom Arena, Hel ra Citadel: boss lato destro)
Radiant oppression: La nostra finisher (probabilmente appena sarà fixata verrà inserita in rotation come skill fissa)
EQUIPAGGIAMENTO
Il Glifo Prismatic vi servirà in alcune trial in cui i boss sono deadra o non morti (es: Rakkhat, Ra Kotu).
Nel caso in cui decideste di usare il BSW, sarà necessario giocare con doppia staffa Flame in quanto vi garantirà un buff non indifferente. Considerate anche che scegliendo come razza il Dunmer i vostri danni da fuoco saranno leggermente buffati. Ho scelto di giocare con la Siroria Inferno Staff in main bar per non perdere il buff del BSW quando si passa alla backbar.
Questo anche perchè il tempo che noi trascorreremo in backbar sarà così ridotto da non permettere di far scadere mai il buff del Siroria.
Questo set up a livello "ideale" è quello con il potenziale di danno più alto per il proc del bonus allo spell damage del Moondancer.
Questo setup vi permetterà di iniziare dungeon e trial normal per farmare i set che vi serviranno per l'end game. Vi consiglio di craftare il Julianos e acquistare i gioielli Willpower a basso costo per iniziare, poi passarete successivamente a farmare tutto quello che vi servirà del BSW.
Come ottenere il gear
Mother Sorrow: Deshaan [World Boss: Chest, pantaloni] [Public Dungeons Boss: guanti] [Delve Boss: Cintura, stivali]
Burning Spellwave: City of Ash(I e II)
Siroria: Cloudrest (Trial dell'espansione: Summerset);
Julianos: Craftabile
Willpower: Guild stores, Imperial City Vaults
Maelstrom Staff: Veteran Maelstrom Arena
Champion Points
The Warrior

The Mage

The Thief

The Lord
15 Quick Recovery
The Ritual
44 Thaumaturge
The Tower

28 Warlord
2 Sprinter

The Lady
49 Hardy
49 Elemental Defender
34 Thick Skinned
The Apprentice

56 Elemental  Expert
48  Elfborn
24 Spell Erosion

The Lover
100 Arcanist
42 Tenacity
The Steed
81 Ironclad
32 Spell Shield
The Atronach
22 Staff Expert
66 Master-at-arm
The Shadow
40 Tumbling
48 Shadow Ward
Rotation
La rotation del magplar non sarà una rottion molto lineare; Essa prevede molti cambi di barra per eliminare tutte le animazioni e massimizzare il danno il più possibili. Questo tipo di rotation rende il magplar al comtempo sia un personaggio non molto semplice da utilizzare,soprattutto per i meno esperti,ma al contempo un personaggio molto divertente con cui poter imparare.
La rotation sarà, quindi:
DPS Parse & Video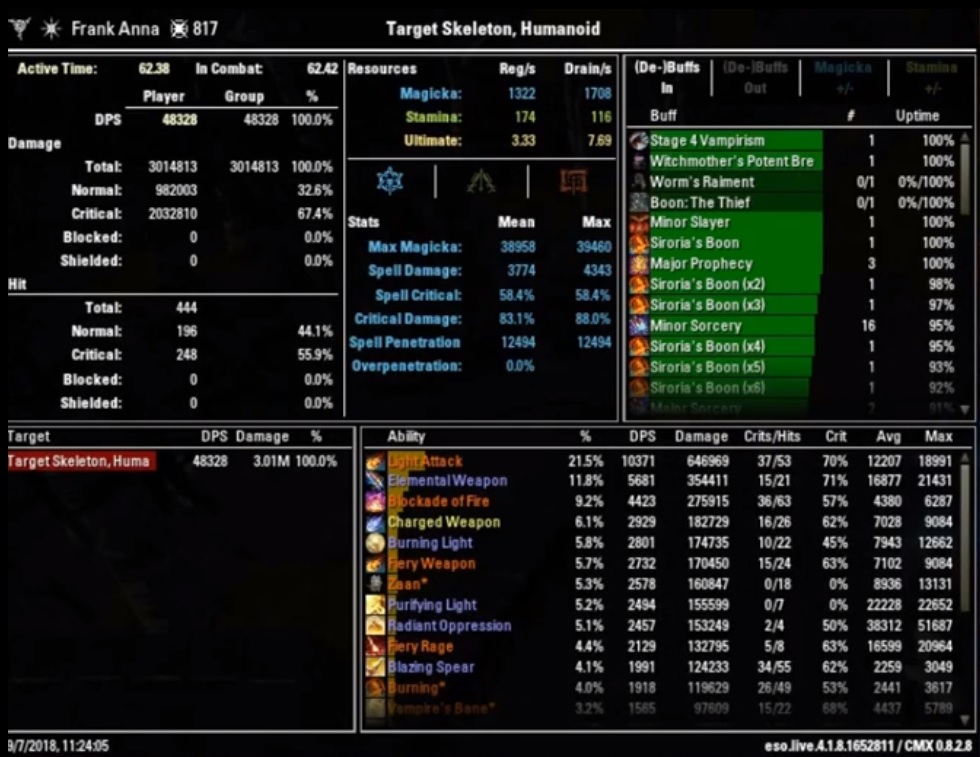 Per qualsiasi consiglio o dubbio non esitate a contattarmi in game. Bella!